The David City Recycling Center will be temporarily closed starting December 12, 2019 and will remain closed for approximately six (6) months. We are sorry for the inconveinence.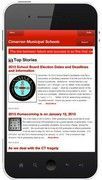 WE'RE NEW & IMPROVED!
Welcome to the new City of David City web site. We have been working hard for the past few months to redesign the web site. The site will continue to evolve and keep you up to date on important activities and information. While the site won't be a daily newspaper by any means, it is certainly our goal to keep the content fresh and exciting in an effort to entice you to return often. ALSO , b e sure to visit . . .